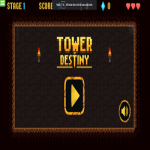 Tower of Destiny – Welcome to the world game incredibly fun of 123gamesfree.com we introduce to you the game. This is a jumping game, attractive, beautiful, where your goal is to climb as high as possible and want to get as many points. Let's open the chest and drop the ladder, jump to the ladder and you will climb to new levels. Then, picking up gems and have to avoid all dangerous obstacles. When you dodged, blade spin, and climb to the top of the action game. This game is designed with the background of a button extremely great, you must destroy all monsters, collect as much hidden treasure, avoid the deadly traps and discover the way up the Tower. Please enjoy this exciting game right now anyway.
Features of the game Tower of Destiny:
Graphics unique design, novelty
The interface is colorful, lovely
Animation, super smooth combined with vibrant sounds
All ages can play this fun game
Tower of destiny cool math on all mobile devices, computer
Please refer to the game of the same name Jelly Jumper
How to play the game:
On the computer, use the mouse to play.
On mobile devices, you can simply touch the screen to play.
Click cool math games tower of destiny or press space to jump. Open the treasure chest to drop the ladder, then jump up the ladder to the next floor. Collect all the gold and gems to buy new outfits and upgrades.
You invincible of you will be within 0.3 seconds. Take advantage of this beautiful dance fun games cool math!
Have fun with this exciting game Tower of Destiny