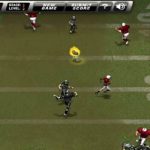 How to play Return Man 2. Return Man 2 is actions games 3d the sequel in the Return Man Series. In playing Return Man 2 you take kickoffs from your opponent and return them into the end zone for touchdowns. Only touchdowns count and tackle prior results in a loss of turn. Return Man 2 uses multiple levels of increasing difficulty.
How to play Return Man 2
Your first few returns will be easy, but by level 3 you will need to do more than just follow your return blockers. As you move up levels in Return Man 2 you will unlock different abilities to help you like using a spin and a stiff arm to block off your would be tacklers. Return Man 2 also has special icons on the field that will help you such as a green lightning bolt which allows you with a short burst of energy.
To play Return Man 2 simply press play on the console and Return Man 2 will then sequence to the first level where you will take your first return. When the whistle blows the kick is up and you need to place your return man inside the yellow countdown circle using the arrow keys. You then use the arrow keys to move your return man accross the field ducking, spinning and stiff arming your oppornents. Return Man 2 is a sinlgle player only game, and some of the options are not fully available in this version of Return Man 2. Have fun playing Return Man 2 and look forward to the future release of Return Man 3.
Beside, Caveman Adventure is an action game that receives many emotions from players around the world. Join in this game, your task is to get your cave and pick up all the stars. This game has a beautiful interface and smooth animation, an addictive challenging game with 63 levels with four different worlds of adventure. Suitable for players of all ages. Click the "play now" button to play and feel! 

This game was realized in 2012 by ESPN and since that this game has tons of fans all around the world, it is extremely popular among children and grown-ups as well, people just love this game and they have good reason to do so.
Controls of the game can be seen here below on the screenshot, it explains how you can move in the game as well as how you can activate your special moves.
So about those changes, well there are couple of new special moves in the game which you need to unlock (three in total, name of those special moves can be seen here: spin, speed burst and front flip), these special moves are very important especially when you are playing in higher levels of the game and you have to deal with a lot of opponents.
Graphics seem to be changed a little bit, but I'm not really sure about that, to be honest. However, sound in the game is pretty cool; I mean it leaves experience as if you are on the football field yourself.
From the very beginning don't forget to touch yellow circle on the field (in other words pick up the ball) before you will rush to the opposite side of the football field, I made this mistake a couple of times when I was noob and I couldn't understand why I was losing game over and over again, it was pretty hilarious.
There are different strategies in the game that you can follow up, but everything is much like in real football, no matter what, you must dodge enemy's attack and stay behind your teammates, they will help you to score a touchdown.
A game is quite simple with awesome gameplay, those who like football games should definitely try Return Man 2.
|> See more: