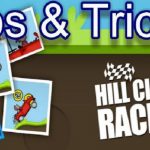 Hill Climb Racing Tips, Tricks and Cheats – Top Hints to Play
Hill Climb Racing Tips, Tricks, and Cheats – Top Hints to Play. Hill Climb Racing, also known simply as Hill Climb, is a game for the iPhone and other iOS devices in which you drive a four-wheel drive vehicle in a side-scrolling view, trying to go as far as you can and collect coins. It's an endless driving game, but not auto-driving, as you control the acceleration and the brake, both of which you must use to navigate some of the nastier hills in the game. Read on for some tips and tricks for Hill Climb Racing! First of all, figure out what Hill Climb is?
Hill Climb Racing Tips, Tricks and Cheats – Top Hints to Play
Plot:
The character of this game is Newton Bill – a young aspiring hill racer. The thought of the game is that Bill won't be satisfied until he reaches to the moon after passing the highest hill.
Also, Nut Rush is a lovely game, getting a lot of emotions from the players. Join this game, your task is to help the squirrel gather the nuts. Climb higher trees to take home! With a high-quality interface and lovely sound, the Nut Rush game is sure to bring you the best of both worlds. No doubt, just click the "play now" button to enjoy the game, then you will have a great time with nice experience. 
System:
It is like you will get different cars (vehicles) to drive, and coins to upgrade the spare parts. You can earn bonus points for tricks. The most crucial thing is, your car keeps flipping over and there is only one life, after that game is over, and you have to restart that particular stage.
|> Play now: best actions game
Survive:
1) Try to avoid car flips, always!
If you take the name of the game very seriously and if you are in the full mood of racing and keep pushing the accelerator, you have the highest chances for flipping your car. And if you flip your car once, there is the least chance of survival. Sometimes, you may survive luckily and can get double points, if you make the full flip. (But as the common saying; luck is not always on our side!)
Now you must have the question how to avoid flipping on a bouncing bridge? The trick is simple. Slow down your vehicle. You should balance the force and the brakes. Brake well before the last plank, but remember that if you brake too hard, it also can be the reason of flip over.
2) Never ignore Fuel Tanks
Those red canisters in your hilly ways are not hurdles. They are fuel tanks. Never avoid them, they are extremely necessary, as they will help you to finish your level by keeping your car's fuel tank full. If you run out of fuel in the middle of the level, you will lose the game.
3) Don't be a skate! Spend coins on upgrades
Choosing the right updates are vital in Hill climb because the vehicle of Mr. Newton Bill is fragile. When you start crossing the levels one by one, you have to upgrade the car's parts as per the need. Otherwise, it is extremely hard to survive.
You can make Hill climb racing best vehicle by upgrading your car. You can do upgrade in the four attributes.
If you have a problem of getting up steeper hills, upgrade your engine or the tires. If the handling of the car is difficult, update the suspension or 4WD. And if you don't feel any weak areas in your vehicle, upgrade each four segments one by one or all together and get a well-balanced ride.
4) It's better late than never
Don't speed up. You need to speed up a little while climbing the hills, but when you are going down the mountains, you should be very smooth. This will make you drive slowly, and you have to spend few extra minutes in each level, but driving slowly and safely will help you and your vehicle for a little longer, and like this, you can reach to the moon. 😉
5) Choose the best car for hill climb racing
I have analyzed the game, and I want you to know a few types of vehicles so that you can play the game well! All the vehicles have their pros and cons, but ultimately, they will help you cross the level. You need to understand your comfort zone and select the best one for you according to your level.
In addition, the game Caterpillar Crossing is an addictive, addictive and addictive puzzle game that will surely give players the feeling of relaxation and the best experience. Join in this game, your task is to use the arrow keys to move the moth. Eat leaf to grow. Climb the ladder to defeat the level. For good performance in this game, players need to have good reaction skills. No doubt, just click the "play now" button to enjoy the game, then you will have a great time with nice experience. 
Hill Climb Racing Cheats:
This feature allows you to earn unlimited coins and unlimited gas. You can unlock all the cars as well as tracks by adding this feature. This tool also provides you the facility of anti-ban. Hill climb racing cheats tool works for PC, Mac, as well as all forms of mobile phones.
What stages to unlock first? Right away anything that requires abnormally awesome grip are probably out of the question. Alien Planet and areas with snow are very slippery needing a buffed out ride. Slow and steady with few obstacles is what your looking for. Countryside, Desert, Highway, Moon, Mars, and Night all have beginner qualities making them perfect for getting a long ways with little. To go the furthest in any place your gonna need something that has max stats.
Rotating Bonuses – Sometime when you jump off the edge of a large valley or small hole your ride will try to flip. In many cases you can do at least 1 safely for some extra cash. Being more comfortable doing this will net you bigger earnings in the long run. Just a little work smarter not harder technique. The Motor Bike is one of the best for turning in the air and even comes with it's own Mid-Air Control for bigger tricks.
Fuel – The Truck, Tourist Bus, and Kiddie Express all have the highest capacity for gas letting them go further than other without. This is useful for starting the race with a larger supply and gaining more from red gas can pick-ups. Using this tactic on the Highway will probably get you as far as you'll ever get anywhere else.
|> See more: Best action games for pc at miniclip games