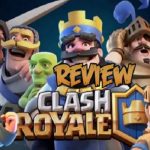 Clash Royale Review – A Hybrid of Card Games, Moba, and Awesome
Clash Royale Review – A Hybrid of Card Games, Moba, and Awesome. The thing about mobile gaming is that you never really know when a big, defining game comes around. Flappy Bird takes over the world out of nowhere. Crossy Road sure was fun and well-made, but I never saw it becoming the smash hit it became.
Clash Royale Review – A Hybrid of Card Games, Moba, and Awesome
It inspired countless imitators. Candy Crush Saga and its sequels somehow became this generation's defining match-3 game instead of Bejeweled and its brethren. And of all the competitive simulation games, Clash of Clans defined the raiding-strategy genre (and has some awesome exploits and cheats). But there are plenty of alternate universes where some other games are massive smashes instead of these.
From day 1 of its soft launch, it became clear right away that Supercell had a hit on its hands. They figured something out that countless MOBAs, first-person shooters, and any other game have failed to do.  They made an intense real-time multiplayer game on mobile that engages players and makes money without feeling unfair. It's easy to spend tons of money on Clash Royale, but you'll sink hours into it just because you enjoy it.
I go in deep about the game in an earlier article, but Clash Royale is best described as a collectible card game meets a real-time strategy game and a MOBA. You have a deck of 8 cards, with 4 in your hand at one time. You use elixir, an energy unit that recharges over time, to summon cards onto the battlefield. Then, you deploy them to attack the enemy's crown towers in the 2 lanes each having a tower, along with a center king tower. Destroy a crown tower, and you can go after the king tower. Destroy the king tower, and you win, though you have to do so in 3 minutes, with the last minute providing double elixir. Otherwise, the player who has destroyed more crown towers is the victor. If towers are tied, then there's a 1-minute sudden death overtime where the first person to destroy a tower – crown or king – wins. The king tower does more damage to incoming units and hurts harder.
|>  Play now: actions game online
What's clever about the gameplay is that it's all so simple to learn and play with. You drop units in, and they follow their behaviors without any other command. Where you place units can be important, but not as much as the lower-level strategy of managing your deck, elixir, and current cards in relation to your opponent's situation. You become knowledgeable about the game at a level where you feel comfortable diving in. Before long, you're joining a clan, experimenting with decks, and getting sucked into the metagame. This happens so fast, you won't know what hit you. And because games only take 3 or 4 minutes, you can feel like you're getting a lot done in a short session. Compare this to many popular multiplayer games, where they can feel overwhelming for too long. Even something like Hearthstone has a steep barrier to entry today. Clash Royale limiting certain cards to a tier of the game helps a lot to make sure that you're not getting an information overload at any point.
For the sake of being thorough here, let's assume this is somehow the first you've heard of Clash Royale. The easiest way to describe it is as a collectable card game where your cards represent real-time strategy game-like units which are dropped onto MOBA-ish multi-lane battlefields with two towers and a base you need to attack while defending your own. That's quite a mouthful, and it sounds complicated, but the magic of Clash Royale is it's all presented in a way that I really don't think you need to know anything about card games, RTS games, MOBAs, or the emergent strategies in any of those genres because everything has been simplified and streamlined to a masterful extent.
If you've never played a game like that before, even as great as the Hearthstone tutorial and onboarding process is, you're still talking more of a learning wall and less of a learning curve. Thirty cards is substantially easier to manage than Magic's sixty, but you've got to either really know what you're doing or be a supremely analytical player to be able to make heads or tails over whether running one of a particular card is doing much better or worse than running two of that same card. Just how difficult it is to create a competitive deck for most players leads to just looking up what other players are playing, copying those decks, and never really ever needing to learn how to build a deck of their own.
A typical game then involves initially choosing your eight cards which hopefully meld together well in some kind of cohesive strategy with answers to the different types of threats you might come across. From there, you search for an opponent, and are matched up with someone who has a similar trophy level as you (more on this later). From there, you dump out cards, and hopefully manage to knock down one or more of their crown towers while protecting your own, and ultimately destroy your opponent's main King tower. Games have a hard limit of taking absolutely no longer than four minutes, which is really just another clever wrinkle in the game.
The first two minutes of a Clash Royale game are normal, you slowly gain Elixir and use that Elixir to play your cards. If inside of these two minutes you manage to destroy your opponent's main King tower, you win. Otherwise, the game advances to an additional minute where Elixir generation is doubled, which is usually where things get real as you and your opponent just rapid-fire throw cards at each other. At the end of that cumulative three minutes, whoever has destroyed more towers wins the game. If things are tied, you're given another minute of sudden death where the first player to destroy any tower wins. If after sudden death no one manages to do that, the game ends in a tie. Ideally, you want to destroy all of your opponent's towers, as you collect crowns for each tower destroyed. If you collect ten in a day, you unlock a Crown Chest which usually has a hefty amount of gold and cards. But, wait, "Chests? Gold?"
Here's the gist- Cards are rewarded through opening chests. Every four hours, you get one free chest and you have two slots for these free chests, so to maximize your freebies you'll want to be checking in on the game at least once every eight hours. After completing the tutorial, winning battles awards chests of different levels of rarity (rarer chests include more cards and gold) and you can hold a maximum of four of these prize chests. Silver Chests, which are the most common prize chest to come across take three hours to unlock with the Super Magical Chest, currently the best chest in the game, taking an entire day to unlock. Only one chest unlock timer can be rolling at a time, so there's a bit of strategy involved with what you unlock and when. For instance, if you've got a Golden Chest in your inventory, you'll likely want to hang on to that to unlock it overnight as that's an eight hour timer you can have counting down while you sleep. If you have four chests in your inventory, you cannot earn more through winning games until you unlock one and thereby open up that inventory slot.
Of course, you can also pay to skip any of these timers, and Clash Royale shares a similar premium currency to Clash of Clans in that they're using Gems. Like any free to play game with timers, the amount of premium currency it takes to skip a timer scales up significantly with the amount of time remaining. Additionally, like all these games, the premium currency is doled out at regular intervals although it takes a while to accumulate any substantial number. Gems are also used to buy gold and chests from the in-game store. Chests purchased this way are opened immediately and aren't impacted by you potentially having four chests in your inventory already.
I encourage everyone to give this game a try, even if you're a vigilant hater of free to play. Monetization methods aside, you'll still be able to see what a clever formula Supercell has stumbled upon to here with this hybrid of card games, strategy games, and MOBAs. Hard limits on session time make it a phenomenal game to play on the go, and it can be played in portrait mode in one hand which only serves to make things easier. In less than a day it's the top free app, and steadily climbing up the top grossing charts, so if you dig this style of gameplay but don't particularly like certain things about Clash Royale (like chest timers or whatever else) just wait a while.
|> See more: Best action games for pc at miniclip games