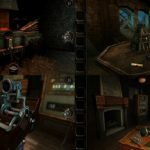 The Best Escape Games On Android To Challenge Your Wits
The Best Escape Games On Android To Challenge Your Wits. Gaming on Android devices is hugely popular, and there are many game genres that smartphone and tablet users enjoy. Escape games might not be one of the first that spring to mind but they are all the rage, and plenty of people find them enthralling and entertaining. 
The Best Escape Games On Android To Challenge Your Wits
Escape games can be absorbing, exciting, challenging, thrilling and addictive, and if you haven't yet tried them out, now might be a good time. There are plenty of escape game apps available on the Google Play Store, but weeding out the good ones from the bad ones can take a lot of time. We've been working out way through many of them to come up with our selection of the best escape games on Android that will challenge your wits and keep you entertained in your downtime. Some of these are one-offs while others are series' of escape games, so why not download one or more and see what the fuss is all about.
In addition, Dynamons World is a fun addictive action game on 123gamesfree.com. In particular, this game has growing difficulty, so it is not easy to get a high score in the first try and players to have the opportunity to bypass their achievement each and every day. When you participate in this game, your mission is to travel the world map and defeat Dynamon and the public! Train your monsters and level them in battle! With high quality and colorful interface and realistic sound, Dynamons World game will surely give players the feeling of relaxation and best experience. 
|> Play now: best of action games
The Room Series
The Room created by Fireproof Games is a well-loved trilogy of games and a cracking example of this genre, involving mystery, suspense, and a sense of peril. The idea is easy to pick up, and the puzzles are real brainteasers that will keep you occupied for many hours. Amazing graphics add to the realistic feel, and the gameplay is smooth and seamless.
We heartily recommend The Room series, and you don't need to just take our word for it. On the Google Play Store, these three games all rank a user rating of 4.8 or 4.9 stars out of 5, and millions of players can't be wrong.
Spotlight: Room Escape
There's plenty of adventure with this escape game, with the added intrigue of losing your memory and waking up locked in an unknown room. You'll need to use logic to work out what happened, solve clues, find objects, and get out of the room.
The intuitive game controls and stunning 3D graphics add to the experience of the game, and we found it extremely satisfying. This one is free to download although in-app purchases are available.
Beside, Awesome Tanks 2 is a highly addictive game from players around the world. Now, you can completely play this addicting exciting game on your mobile. When you participate in this game, your task is to move your tank by the arrow keys or WASD. Grab a tank and shoot with the mouse. Defeat the enemy tanks, collect coins and destroy the enemy base to clear each level. Spend your money wisely to upgrade your tank with better armor, weapons, visions and more. Click the "play now" button to play and feel! 
3. Money Movers
Top New Best Escape Games For AndroidMoney Movers is not a new game because it was available to play online, but I'm sure many of you don't even hear about this game. Money Movers has been just released by Kizi Games for Android on google play store.
In this game, you help two brothers to escape from prison safely. Your goal is to collect all money bags and escape from prison. But it is not easy because there are lots of obstacles and puzzles that you have to solve.
Faraway 2; Jungle Escape
Top New Best Escape Games For AndroidFaraway 2: Jungle Escape game is the sequel to Faraway: Puzzle Escape game. The new part of this game comes with more interesting, challenging puzzles and will test your puzzle solving ability.
You have to find clues by exploring all the things around you and unlock the last room to escape. Dozens of addictive levels are available for puzzle games lovers.
Maze Escape
Best escape games for androidMaze Escape by Genera Games is one of the best escape games for Android 2018. In the game, you play as a hero and the goal is to find all the keys to escape the labyrinth. But it would not be easy because of traps, obstacles, and enemies. You collect coins, slay down enemies, open chest, find keys, and complete all the stages. It has excellent graphics, awesome gameplay, and much more features.
All That Remains: Part 1
This game has achieved an extremely high rating on the Play Store, and after getting to grips with it, we can see why. You'll take on the character of Duncan Price who wakes up in a bunker with no recollection of how he got there. Hearing his sister's voice over a radio, he fears for her safety as well as his own and knows he must escape.
All That Remains from Glitch Games has some really challenging puzzles and a great soundtrack, while further features include an auto-save feature and an in-game camera to keep a record of the clues you come across. We found it to be really absorbing and hopefully the next part will be available before too much longer.
Hellraid: The Escape
Powered by Unreal Engine 3 technology, this dark and atmospheric fantasy game set in the Hellraid universe has amazing visuals that add to the overall appeal. The idea is that a sorcerer has trapped your soul in prison and demons are guarding you. Of course, you need to escape but rather than use weapons you'll need to employ the full use of your brain.
The stimulating puzzles are really thought-provoking, and the action-adventure elements and excellent gameplay will sweep you along in the excitement.
The Lost City
So that lost city that Grandma told you about… it turned out to be true after all! The city in question sits in a misty rainforest with stunning landscapes and a power is awakening after a long sleep. This legendary city doesn't appear on any maps, but you find out that it's real enough, as is the artifact that you hold in your hand, given to you by Grandma.
The game looks lavish, and you can enjoy the original soundtrack while you tackle the puzzles and collect various items. Features include an integrated hint guide and walkthrough, dynamic map to keep track of your current location and other locations you've visited, and a journal to log the clues that you come across.
The Cube Escape Series – 9 Titles
Developed by Rusty Lake, there are nine highly rated games in this series at the time of writing. All of them are free to download and play, hence don't expect mind-blowing graphics, but there's plenty to enjoy in each game. The nine different titles are Cube Escape – Seasons, The Cave, Theatre, Case 23, Birthday, The Lake, Arles, The Mill, and Harvey's Box.
As you might expect, the mysterious games involve unfolding stories and completing escape quests. If you enjoy the Cube Escape series and want more from Rusty Lake, there are also two paid apps you might want to look at, Rusty Lake Hotel and Rusty Lake: Roots.
|> See more: 
World's Hardest Escape Game
This game is very enjoyable though we're not sure we'd agree that it's the world's hardest escape game. However, it is challenging enough to make you think hard, and we thought it had a good mix of puzzles, some not so difficult and others rather more complex.
There are 20 locations to explore and 10 hours of gameplay, and while that might not sound much, it's worth remembering that this one is completely free to download and to play. Completing the final very tricky level was very satisfying, and we think you'll think the same once you've had a go.