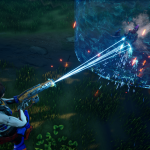 Epic Store Gets A New Exclusive With Online Action Game The Cycle
Epic Store Gets A New Exclusive With Online Action Game The Cycle. With the Epic Store growing in influence, we're seeing a number of games–including Hades and the PC releases for Metro Exodus and The Division 2–release as exclusives on the new online marketplace. Another game launching as an Epic Store exclusive is The Cycle, coming from Yager Entertainment–the same developers behind Spec Ops: The Line and 2018's multiplayer combat-sim Dreadnought. With the full rollout planned later this year, The Cycle will be Yager's first self-published game, it blends PvE gameplay with the pace of an online shooter.
The developers explained why they felt the game was such a good fit for the Epic Store, crediting the success of Fortnite and flexibility of the Unreal Engine for online games. As a live game, Yager has plans to work on The Cycle for the long-term, adding in new content and features over its lifetime.
"We wanted to have a different type of relationship with the community than what we'd had before on Dreadnought," said Jonathan Lindsay, Executive Producer at Yager Entertainment. "There's been a lot of lessons learned from that, on a technical level, and also, we've gotten a lot of benefit out of the lessons we've learned from Epic on Fortnite, since they've worked on the Unreal Engine. The engine itself is really great for a live game and it supports that format really well."
The Cycle is a PvPvE game (player-versus-player-versus-environment) that blends together different genres for a somewhat unorthodox approach to an online shooter. Landing on the hostile alien world Fortuna III, your character will have to explore the surface of the planet and collect resources to craft new gear to survive. In addition to fighting off the local wildlife, you'll need to complete a number of contracts from your chosen faction in order to gain enough credits to call in better gear. However, you'll also come across other players who are doing the same.
When reading that particular premise, it sounds like a game trying to take a crack at the battle royale genre. Though it features a very similar setup, complete with a map that has themed areas, The Cycle is not a battle royale game. Along with contending with dangerous alien creatures and tackling new missions thrown in during a match, you'll need to actively collect materials to haul back to the extraction point. You're certainly free to shoot other players on sight and try to take some of their resources, but you might be better off trying to form a squad with other players you can meet in the world. You can click freecell 123 play games free now.
The end goal is to make it to the extraction with your set of resources by the end of the match, but unlike other online shooters, multiple players can come away with a win. Resources kept with you during extraction can be used to craft new upgrades for your gear. These upgrades are persistent, allowing to you flesh out your character and loadouts, letting you bring a slightly more prepared character into the next game. However, you'll still start fresh in every match, and you'll need to collect credits to call-in the more high-end gear you've acquired.