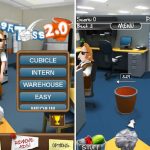 Top 5 funny games for kids on ipad
1. Lego Harry Potter: Years 1-4
The list of movies converted into video games that turned out to be duds could stretch around the world a few times, but if there's an exception to this trend, it is the Lego series of games. Lego Harry Potter is the perfect game for anyone who ever wanted to join the school at Hogwarts as a child prodigy. This iPad game is better for older kids approaching their tweens.
See more: https://goo.gl/4qDoaZ
2. Slice Fractions
This list of kid-friendly games is about having fun, not learning something new. There are plenty of educational apps on the App Store for engaging a child's mind. But when you can intersect having fun with learning, it definitely deserves a mention on this list.
Slice Fractions manages to capture fun inside of a game that's all about learning fractions. This makes it ideal for kids who are ready to move beyond whole numbers and conquer the idea of division.
3. Paper Toss 2
Paper Toss sounds more like a game you'd play when stuck without your iPad, but the transition to the touch screen can be highly addictive. It's also quick, easy fun that you can enjoy with you kid, competing to see how many wadded up pieces of paper can make it into the trash can in a row. But don't think it's easy. Even on Cubicle mode, judging the speed of the fans perfectly each time can be a challenge.
See more:
How to play 4 of the most attractive games – My real games
How to play game Run 3 – Cool math games
4. Bubble Ball
What do you get when you have an addicting physics-based puzzle game made by a kid rather than just for kids? You get Bubble Ball. Developed by 14-year-old Robert Nay, Bubble Ball enjoyed a million downloads in its first two weeks on the app store. And while it doesn't have the fun graphics found in other titles like Cut the Rope and Fruit Ninja, it does contain addictive play that will please puzzle lovers aged 4 to 94.
5. The Game of Life
The Game of Life has long been a kid favorite, but it's pretty easy to lose the pieces, especially those blue and pink pegs. No worries about losing game pieces with the iPad version. And with neat graphics thrown into the mix, this classic board game takes on a new life on the iPad.
If you've never played Life, kids take turns moving about the board, first graduating from school, then getting married, getting a job and finally having kids. At the end of the game, the score is calculated by who has the best job and most kids.