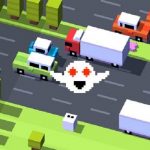 Crossy Road Review – If you're privy to the comings and goings of popular iOS App Store games, you'll no doubt be aware of Crossy Road, an Australian-made endless tapper that is taking the world by storm. Before you read any further, do yourself a favour and quickly go to the app store on your nearest Apple device and start the download. By the time you're done here, you'll be able to see what all the fuss is about and join the other 2.5 million downloaders (in the first week alone, I might add), who are already hopelessly hooked on directing their adorable voxel characters across the game world's many highways, railway tracks, and lily pad-speckled rivers.
Crossy Road Review
Mechanically, the game functions almost identically to 1981's Frogger, in that the player's input guides the critters across a series of busy roads, rails, and rivers. The beauty of the experience lies both in its simplicity and its ability to draw out your addictive streak, regardless of how easily addicted you may usually be.
In addition, the Road Hop game is one of the most addictive, exciting games received by many players around the world. No doubt, just click the "play now" button to enjoy the game, then you will have a great time with nice experience. Join this game, your task is to use the mouse to move the child. This is a crazy addictive game and worth a try. You will not be disappointed because you will definitely enjoy this game. 
Visually it is simple and pleasing, with a near isometric voxel-style 3D world that is appealing to children and adults alike. The controls are intuitive and play to the strengths of the platform with simple tap and swipe commands that determine the direction in which your on-screen avatar hops.
I've been trying to find a few faults in the game, but it's proving rather difficult at time of writing – and that's after a week and a half of solid daily play. If I had to comment toward any negatives, it would be in the limited replayability and monotony of the game world – being an endless runner, the world repeats… endlessly. Perhaps if there were some variation in the environment or unlockable locations, it might keep those less easily retained players coming back for a little longer.
Personally, I find the most interesting and well implemented aspect of the whole experience is the way that Crossy Road monetises. As the game is free to download, the developer has chosen to allow players to decide for themselves if they would like to watch a 20-second advert for a reward of 20 in-game coins, rather than force the player to view advertisements or introduce pay-to-win elements. Once gathered, these coins allow the player to unlock new playable characters, some of which change the entire appearance of the game space.
If I had to pick the most outstanding feature of the game experience, it's in the way that monetisation has been handled – it's a completely ethical, fair, and positive approach. I can't think of a time that a free-to-play game has made me want to watch an ad, simply because I knew I was supporting the developer in what little way I could. With that being said, I will note that you can – with emphasis on the 'can' – purchase the characters for $1.29 AUD, all of which are (as far as I can tell) also unlockable without any spend.
Moreover, If you are in your spare time and do not know what to do to get fun, you are in the right place with the game Cute Road. No doubt, just click the "play now" button to enjoy the game and enjoy. Join this game, your task in this endless game is to drive and collect coins without encountering any obstacles or other cars. High quality with a lovely colorful interface and realistic sound, cute street games will definitely give players the feeling of relaxation and best experience. Let's play and feel! 
If you're looking for that next little time waster to keep you busy on the train to work or on the loo, get your hands on Crossy Road. Even if you do put it down a day or two later, it might just revive what little faith you had left in pick-up-and-put-down mobile game experiences.
What separates the great games from the good games? There's an intangible aspect of making a game feel fun to play that can be difficult to pin down when trying to describe it, and even more difficult for a developer to create. But when a developer nails it down, it's truly sublime. Crossy Road [Free] absolutely nails how a game should feel, which makes it endlessly replayable, and my current go-to pick-up-and-play game.
The game is essentially a randomly-generated take on Frogger, where players initially control a chicken trying to cross highways and rivers to get as far as possible, because the world is endlessly scrolling behind them, and an eagle will come and swoop them up, which is a good enough reason to get in gear. Someday the eagle will come for us all, or we'll get hit by a train, or swept into rapids. Such is the course of the universe.
Really, the game is just the same core concept as Frogger, and on the surface, it might be difficult to think how this is so special. It comes down to structure and feel of the game. As the title's similarity to Flappy Bird may have tipped, there's a bit of an influence there. The scoring is simply about how far you get, and you have only one life, rather than multiple. I think these changes make the game rather accessible, and built for quick sessions.
Crossy Road utterly nails how a game should feel. Tapping to move forward has a great feel to it, with just a bit of whimsy to it with the bouncing. When you get hit by a train, you really feel the impact. There's so many subtle details added to make the game just have a good feeling to it. The characters having their own cosmetic effects goes a long way towards making this game feel pleasing. Having Game Center friends' scores show up while playing is one of my favorite features, and looks great integrated into the world. Even the retries are quick and with the stylish flash of the title screen to get everything reset and restarted. There's also the option to "conserve battery" which reduces the framerate, which means that you don't have to trade battery life in exchange for the stylistic aspects. Either way, the voxel-based visuals are simple-yet-fantastic.
I've already seen complaints about Crossy Road's free-to-play aspects, and I think the nature of such complaints are utter poppycock. Crossy Road's free-to-play monetization is based around playing as different characters, which is pretty much cosmetic. The characters do more than just exist as costumes, like the Mad Wizard will blow up trees, and the eponymous hero of Forget-Me-Not [Free] has flowers to collect. And some characters make the game play at night. These characters can be bought for $0.99 each, or earned randomly in a lottery system, where 100 coins will unlock a new character, with coins earnable through gameplay, video ads, and a regular free gift.
The controls work great. Tapping goes forward, with swiping used to go in any of the four cardinal directions. This does mean that going horizontally quickly requires some quick swipes, which isn't always the easiest thing to do, but it's also a good reminder that it's maybe not the best idea to be running horizontally. There's Everyplay video sharing, but it's an odd implementation in that it doesn't record individual runs, it just has an on-off switch for recording. Whether people like this better than recording individual runs is a good question, but it's definitely unorthodox, and I like the idea of having my best run recorded whether I remember to enable recording or not. At least this means the feature is easily-disabled for those who don't want it enabled.
The game can thankfully be played in any orientation, which makes this great for playing one-handed on iPhone or with a propped-up iPad on a table in equal measure. That goes a long way toward making this game feel so great – it's adaptable to however you want to play it.
The character lottery does give out duplicates, however, and that kind of bugs me, but other than that, this is exactly how free-to-play should work! You don't get any ads unless you consciously choose to view one. And the aspects to spend money on are 100% optional, you can spend the entire game just playing as the starting character and get the same caliber of experience as someone who bought every single character outright. I think it's an amazing balance between having those free-to-play elements, but also making them so that players who don't want to participate don't have to. Also, I hope more characters make cameos in later updates – there's just Forget-Me-Not and the hero of Epoch [$0.99] right now, and I'd love for more characters to show up, as games referencing other games is my favorite thing.