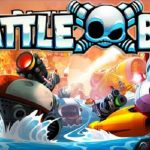 The Best MOBA Games for Android to keep you engrossed
The Best MOBA Games for Android to keep you engrossed. The evolving and strategic nature of MOBA games means they can be totally absorbing.
The Best MOBA Games for Android to keep you engrossed
Best actions game devices has never been better and there are many different game genres to delve into. Although they originated as PC games, multiplayer online battle arena (MOBA) games where two teams play against each other, have now gained a big following with Android players. Each player takes charge of a unique character within his or her team, and the idea is to take down the opposing team's base.
The touchscreens of smartphones and tablets are especially suitable for the click-based controls used, and modern device GPUs are more than up to the job. Due to the evolving and strategic nature of these games they can be completely absorbing so if you haven't yet dabbled with MOBA games you might be tempted to try one out. It's easy enough to learn how to play them but there's enough to master so that playing is increasingly challenging, and you'll soon find yourself sucked in.
There are a variety of MOBA games available on the Google Play Store, but if you haven't played one before you may be unsure where to start. Therefore, we've whittled them down to our choice of the best MOBA games for Android smartphones and tablets. The following recommended apps are all free to download and play, although also contain in-app purchases if you want particular items and everything the game has to offer.
VAINGLORY
This game is one of the most well known games of this kind for Android, with real-time PvP action against live players or bots. It's one of the best if you're just starting out with MOBAs, as the experience is rather simpler than with PC-based MOBA games. There are several game modes to get your teeth stuck into, Casual, Ranked, and Quickplay, and you can choose your hero from more than 30 on the roster. This game is powered by the E.V.I.L engine and was designed especially for mobile, with 60fps battles and touch controls offering sub-30ms control responsiveness.
One of the features is the Guild Finder that makes it easy to get involved with a team of players with similar skills levels to you, and the game also features chests and rewards, in-game currency, and mystery keys for bonuses. Another big plus for Vainglory is the active and engaging global community with official social media channels. The game has great graphics with excellent performance and should impress almost anyone, so why not check it out.
TITAN BRAWL
One of the highest rated MOBA games on the Play Store this Omnidrone app has a user rating of 4.5/5 stars. Featuring single player and PvP battles, fast bite-sized 3-minute brawls ideal for when on the go, collectable Champions and more, you'll need to assemble a team of brawlers to become the best combat crew out there and destroy the enemy Totem. It gripped us from the start and it's likely to grip you too, and again this one is a great choice for those just dipping their toes into the world of MOBA games.
HEROES OF SOULCRAFT – MOBA
Heroes of SoulCraft will see you attempting to climb the league to reach legend status. The fast-paced game offers Angels vs Demons team battle with 5-minute (3v3) or 15-minute (5v5) matches, and you can select from heroes such as Grimnor, Dalia, Keely and more and unleash your titan along the way. The basics are easy to pick up and it's an action-packed and very polished game that will suit plenty of gamers and deserves to gain further popularity.
CALL OF CHAMPIONS
Call of Champions offers intense and addictive real-time gameplay with a really authentic MOBA experience, and you can compete against millions of other players across the world. It has lightning fast 5-minute matches, more than 15 champions across five classes (mages, fighters, tanks, assassins, and support heroes), and customizable talents thanks to the unique Talent Tree. We also love the Orb of Death and the tug-of-war element to take down towers.
The game has the clever touch of A.I. that will fill in if you need some moments out, or you can sit back and watch the action using the Spectator Mode. Like the majority of Android MOBA games, it offers in-app purchases, but the developers state it will be free to play forever and new players will receive a free champion worth $4 in the first week of play.
BATTLE BAY
In this colorful mobile MOBA game from Angry Birds maker Rovio, you'll team up and bid to rule the waves by discovering and mastering new arenas. It's one of the newer MOBO Android games and offers something nicely different, because as you'll have guessed by now, it's all set at sea. You'll need to equip a ship with firepower and join a fleet taking on opponents in 5v5 contests.
The seafaring strategy is a big part of this game, and the ships all have particular qualities and can be strengthened as you go along. There's a surprising amount of depth (excuse the pun) to this game and it's worth downloading to see it for yourself.
STAR WARS: FORCE ARENA
We said that Battle Bay offered something a bit different and that's also the case with Star Wars: Force Arena, though for other reasons. Instead, this one combines a few gaming genres so that rather than just a MOBA game it also leans on tower defense and collectible trading card games. You'll need to use supreme strategy skills to lead a squad of Star Wars units (troops include Hans Solo, Luke Skywalker, Princess Leia, and Darth Vader) through the galaxy in real-time 1v1 or 2v2 battles, but can deploy special cards with powerful abilities to take more control and try to destruct your enemy's shield generator.
The intuitive touch controls of this are noteworthy and it's sure to appeal to Star Wars fans yearning for global dominance, although the temptation to pay for cards might be a drawback for some.
HEROES EVOLVED
This app from Reality Squared Games manages to offer a MOBA experience akin to a PC-based MOBA game. There are over 40 heroes to choose from, with the latest update recently adding Kung-Fu master Bruce Lee, and you'll be part of an Eternals or Ancients team. Superb graphics and animation make this complex game a pleasure to play, and you'll have to be prepared for just about anything as this game also features a Chaotic Strife mode that mixes up the rules. The developers also stress the No Pay 2 Win feature, which should guarantee a fair game.
MOBILE LEGENDS: BANG BANG
It would be difficult to compile a list of the best MOBA games for Android without including this one, due to its amazing popularity. It has easy to master controls, 5v5 battles, and ten-minute match lengths, and the amount of people playing means you'll never have to wait long to start a match. Something many gamers will appreciate is that you can rejoin the same battle if you've been dropped from the game, and features include 4 jungle areas, 2 Wild Bosses, and 18 defense towers. The app description boasts the tag line "Play to Win, not Pay to Win", pointing out that only skill and ability will decide the winners and losers.
ARENA OF VALOR: 5v5 ARENA GAME
From Tencent Games, Arena of Valor has stunning visuals and is a relatively recent addition to the world of MOBA games. The action takes place in the jungle where you'll take on your rivals across a three-lane arena full of secrets, and enemies who are lurking and waiting to catch you out. So far there are more than 40 heroes to explore, popular MOBA features such as first blood, double kill, and triple kill, 1v1, 3v3 and 5v5 gameplay modes, and also a Hook Wars mode.
PLANET OF HEROES
Combining elements from RPG and RTS games, this action-filled MOBA game is likely to satisfy those who enjoy using strategy and tactics in a bid to overcome the enemy. This one includes a single-player campaign mode as well as 3v3 combat and 7-minute matches. It's not one of the best-known MOBAs yet but it does show promise, with heroes in a unique art style and a story mode. Indeed the makers claim it to be a new kind of MOBA and from what we've seen there's plenty of potential.
In this assortment of the best MOBA games for Android we've tried to cover different tastes and preferences, and there are ones that will suit newbies to MOBAs as well as more experienced enthusiasts. Given the popularity of this genre of gaming already, it seems that this will only increase as time goes by. Therefore, the competition among developers will become even fiercer and it's likely that there will eventually be a glut of such games on the Google Play Store. If you get involved now you'll be well in the forefront of future MOBA game developments, so do check out the above apps and comment on which ones you particularly enjoy.
Source: getandroidstuff.com
> See more: The Best Escape Games On Android To Challenge Your Wits