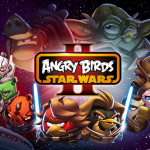 Top 5 best iPad Games for Kids
The iPad can be the ultimate family entertainment system with tons of games and entertaining apps that are perfect for kids of various ages. Every game on the iPad has an age-based rating, so you can tell if a game is right for your child. And because most games cost between $.99 and $1.99, with even the "expensive" games rarely going for over $5, you don't have to break into your kid's piggy bank to pay for their entertainment.
See more: https://goo.gl/ndKXsH
Note: It is recommended to turn off in-app purchases before installing any iPad games for your kids. Some games can seem like a great deal until you get that iTunes bill with all of the in-app purchases, so it's usually best to be safe and turn them off. If you're looking for virtual reality games, this is a great list.
1. Angry Birds Star Wars
There's no reason to start the list with a surprise. Angry Birds has become a phenomenon unto itself do to the ease of its accessibility and addicting gameplay that will keep your puzzle skills churning. And when you add in Star Wars, this one is a no-brainer.  If there's a must-have game on this list, it is this one. If you want to try before you buy, you can download a free version of the original Angry Birds
2. Candy Crush Saga
Candy Crush has taken on a life of its own since its release–its fun for kids and addictive for adults. It mixes the classic connect the matching symbols gameplay with everyone's favorite past time: eating candy. This is another game that can be good for toddlers because just tapping around on the screen will result in a lot of graphical fun. Older kids will enjoy the puzzles presented, and even adults will find it addicting.
See more:
How to play 4 of the most attractive games – My real games
How to play game Run 3 – Cool math games
3. Despicable Me: Minion Rush
The endless runner game has exploded since Temple Rush hit the app store, and while many of the knock offs are just Temple Rush with new graphics or a new theme, Despicable Me: Minion Rush adds fun new gameplay mechanics and includes the humorous charm of those cute little minions. Kids will enjoy this game that is quick to play and fun to compete for the highest score.
4.Fruit Ninja HD
Very few games have as many customer reviews as Fruit Ninja HD (nearing 10,000 now) and still stayed above 4 stars, and there is a reason why so few people find themselves disappointed with their purchase. Fruit Ninja is good, old-fashioned slicing and dicing fun with a simple concept and yet enough challenge to keep you swiping. The goal: slice as much fruit as you can without slicing through a bomb and blowing your virtual finger off. And if you like to try before you buy, there's a lite version available.
5. Where's My Water?
If cleanliness is next to godliness, Swampy is going to make one fun little deity. Rather than slinging birds at boards and stones, Where's My Water concentrates on teaching your kid the valuable lesson of keeping clean by helping out Swampy the alligator stay clean despite the actions of Cranky, the antagonist of this story. Where's My Water? is one of the best games for kids on the iPad, and like some of the other top games, it also has a free version to try out.