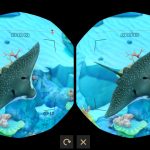 Nintendo Labo VR Kit Review – Cardboard Magic
Nintendo Labo VR Kit Review – Cardboard Magic. With all the high-end hardware requirements typical of VR gaming, you'd think of the Nintendo Switch as the least likely candidate to adopt it. But one of the many things Nintendo is unequivocally good at is making the most of its tech and working within its limitations. The new Labo VR Kit is yet another example. While it doesn't always overcome its inherent shortcomings, Nintendo's latest cardboard-based do-it-yourself package cleverly transforms the Switch into a light, inventive virtual reality gaming experience with the tools to go beyond the initial library.
First things first: You have to build. Thankfully, assembly is part of the fun. Like the previous Labo packages, the software contains detailed and digestible step-by-step instructions, which are animated to show you how to put everything together without a hitch–the encouraging communication also helps take the edge off the laborious, time-consuming aspect of it all. Construction is almost fool-proof since each cardboard sheet has precisely cut lines and slots for everything to be folded and snapped into place. There's no denying the satisfaction of seeing little bits of cardboard gradually come together as an intricate device solidly held together by rubber bands, exact creases, and plastic grommets.
So, how does the Switch become a VR headset? You first build the mount that contains the slot you slip the Switch into, which also holds the packaged goggles. The mount keeps everything in place nicely and the adhesive pads keep the Switch safe. Once you set the Labo software to VR mode, the screen transforms to a stereoscopic view for the lenses. Since there is no headstrap, you'll need to hold the Switch up to your face throughout your time in VR mode. It's worth noting that the Switch's 720p screen resolution is well below that of any other VR platform, resulting in a distinct lack of visual clarity–luckily, this limitation doesn't detract from the types of experiences Labo VR delivers.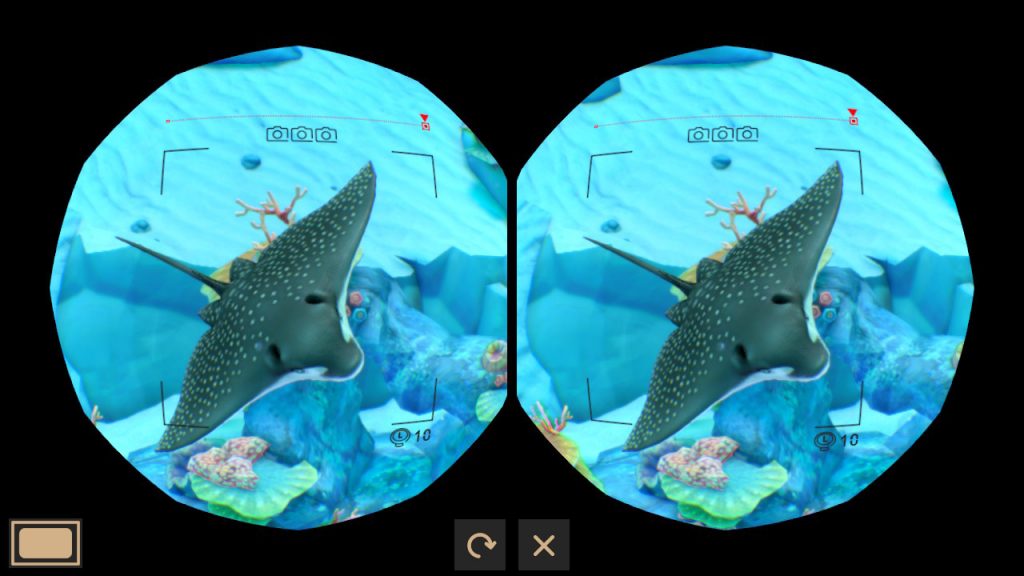 With the headset ready to go, you can physically look up, down, left, and right by moving your head. But because the Switch isn't able to do positional tracking, forward or backward movements aren't recognized and could be nausea-inducing. Tracking relies entirely on the Switch's built-in gyroscope and accelerometer, which results in a relatively smooth viewing experience. Looking in and around in VR works pretty well, and in combination with the Joy-Cons' own gyroscope and accelerometer (and the right Joy-Con's IR sensor), the cardboard devices become functional pieces of hardware.
By and large, the creative process is what drives the Labo VR Kit to become more than its packaged contents–but to see that, you should experience its roster of games, minigames, and proof-of-concept sandboxes. Once you've assembled a new cardboard toy (called Toy-Cons), Labo then walks you through a specific game made for it. The Toy-Con Camera transports you to the middle of an ocean where you can snap photos of marine life, or look upward to float to the surface and see a bigger world. Twisting the Toy-Con Camera lens works just like zooming in with an actual camera lens because of the Joy-Con placed inside recognizes those small movements. Despite the Toy-Con Elephant being the toughest one to work with, the Marble Run game it's tied to is a series of smart physics-based puzzles for you manipulate platforms, gravity, and trampolines to get a marble through a goal.
The novel applications don't end there, either. The Toy-Con Bird delivers flight movements for its open-area collectathon and racing game because the Joy-Con, which is placed on the "bird"'s beak rocks back and forth when you flap the cardboard wings. A personal favorite is the Toy-Con Blaster; it's a pump gun for with tactile feedback that matches the launching of explosive balls for its on-rails shooter game. There's impressive cleverness in how Nintendo makes use of the motion-tracking capabilities and cardboard components, and how they translate to sensible control schemes. These aren't intended to be long-form experiences; rather, they're bite-sized showcases of VR functionality for each of the cardboard devices you assemble.
=> Click 123games play games free now.