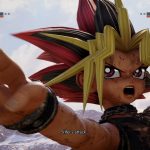 Jump Force Review – Shonen Through And Through
Jump Force Review – Shonen Through And Through. Jump Force is a celebration of 50 years of Weekly Shonen Jump manga, featuring nearly four dozen fighters from 16 of the magazine's most iconic stories. Bandai Namco's arena tag-team fighting game borrows plenty of elements from its source materials, for better and worse. Although Jump Force's campaign story drags on for way too long and ignores what could have been interesting character interactions in favor of repeated excuses for everyone to punch the crap out of each other, its combat is an enjoyable dance between two teams of fighters–thanks to the game's excellent mechanics and flashy visuals.
In Jump Force, you're an ordinary human who's caught up in a warzone when the Dragon Ball, One Piece, and Naruto universes collide into our world and bring their assortment of heroes and villains with them. After being mortally wounded by Frieza, you're resurrected as a hero capable of learning the powers, skills, and abilities of Shonen Jump's characters, and you decide to join Goku, Luffy, and Naruto's Jump Force of allies in order to fix everyone's broken world. What follows is a fairly stereotypical shonen affair, with your character growing stronger over time, enemies and friends switching sides, and a mysterious evil working behind the scenes. Like most fighting games, there's not a single problem you don't ultimately just fix with your fists, from deciding team leader to knocking sense into those who have been corrupted by the same evil forces responsible for everyone's worlds colliding with one another.
There's a decent story in Jump Force, but it's buried beneath a second act that goes on for far too long. After getting acquainted with your new allies, the game tasks you with responding to threats around the globe, as well as the recruitment of any additional heroes who've managed to stumble into our world from their respective universes. Character models during cutscenes are all rather cookie-cutter, as everyone stands in the same position throughout the story, only stiffly moving their mouths and occasionally blinking. The actual story moves with the same awkwardly slow pace, and it doesn't explain what's going on with everyone's worlds or what the villains' motivations are until the third act, so you play through most of the game without any idea as to what you're really fighting against. Not being able to skip cutscenes is also rather annoying, as exiting out of a mission for any reason–such as buying more items to use in combat–has you watch the same 40- to 90-second scene again.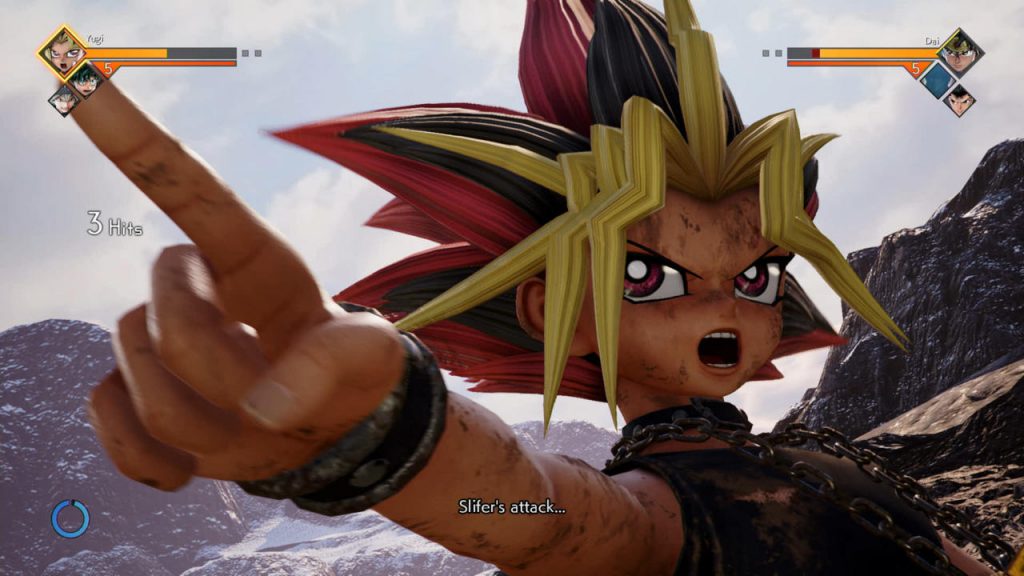 There are brief snippets where you can see how a side story might have helped flesh out the characters, which in turn could have been a good incentive to keep pushing forward through the campaign. For example, Boruto recognizes a sadness behind the eyes of My Hero Academia's Midoriya and confides with the young hero that he knows how hard it is to live up to the ideal of father figures. But the game breezes past moments like this in order to get to the next fight.
Thankfully, those fights are a blast to play. Every combatant comes equipped with an assortment of attacks, blocks, grabs, counters, and dodges that operate in a rock-paper-scissors system. Combat is fairly accessible, and it doesn't take long to understand how the basic mechanics work. However, with over 40 playable fighters, it takes time to get a handle on the entire roster's assortment of strengths and weaknesses, giving you plenty of reason to keep playing. Each fighter has four distinct and unique special attacks as well. Even though these special moves can be broken down into one of seven different types–short-range, dashing, counter, area-of-effect, long-range, shield, or buff–each fighter handles quite differently. If you've read the manga that these characters come from, you already have a fairly good idea as to what most of these iconic moves are and how they behave, but you'll still have to practice with each fighter to get a grasp of what every move can do.
Every attack, basic or advanced, can be avoided in some way–whether via blocking, dodging, or countering–so most fights are tense, with each side looking for a way to bait their foe into opening themselves up for attack without putting themselves at a disadvantage. I've had fights where, after 30 seconds of back-and-forth, both sides are one strike away from defeat, and the battle continues for another full minute of counters, perfect dodges, and last-second blocks. It's empowering to finish off your foe with a perfectly executed combo or snag a victory when all hope seems lost. Each win feels like it needs to be earned, and this encourages you to explore the varied movesets of each fighter, experiment in how attacks might be chained together, and deduce your go-to characters' weaknesses in order to avoid defeat.
=> Click 123games play games free now.