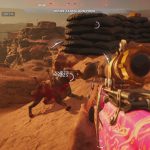 Far Cry: New Dawn Review – Duct Tape Apocalypse
Far Cry: New Dawn Review – Duct Tape Apocalypse. Spoiler alert: At the end of Far Cry 5, the United States gets nuked. Seventeen years later, the region and residents of Hope County have endured and mostly recovered from the devastation anew. The vegetation is more abundant, society has been reshaped, and there is a hell of a lot more duct tape everywhere. Everything feels new and different–well, except for that fact that there's ruthless, tyrannical oppression taking over everything and it's up to you, and basically only you, to stop it. Some things never change. That's Far Cry: New Dawn–despite a few new novelties and a great mechanical twist, New Dawn feels exactly like what it is: a direct continuation of Far Cry 5.
That's not inherently a bad thing. New Dawn features the same kind of forward-thinking approach to open-world exploration and progression as Far Cry 5. While main missions are mapped out for you, the discovery of side activities like enemy outposts, treasure hunts (formerly prepper stashes), and companion recruitment missions mostly comes from your own organic exploration. Earning perk points to improve your abilities is tied to your discovery of hidden caches and diversifying the activities you undertake. New Dawn is a more concise game–the map is smaller than Far Cry 5 and there's less curated content to discover this time around–but the emphasis is still on staying out in the world and soaking up the environment.
That sense of freedom has been diminished, however. It's not the fact that you're revisiting Hope County, but rather how New Dawn sets up the pins. In Far Cry 5, you began in the middle of the map and were allowed to explore in any direction you wished; New Dawn starts you off in the bottom corner of the map and basically pushes you in a steady, linear sweep north as you slowly reclaim territory, and asks you to regularly bring resources back to your base in that starting area to bolster it.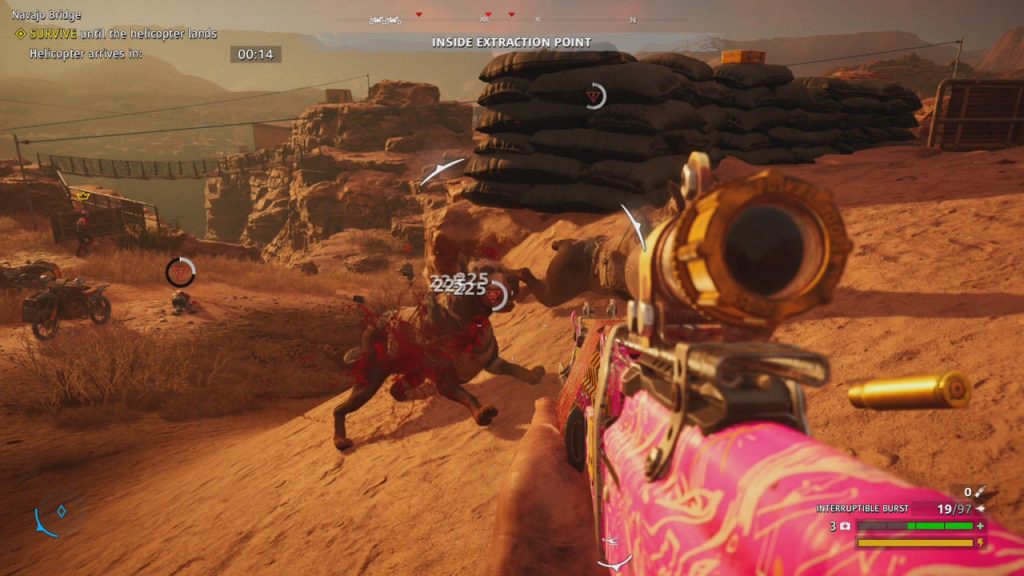 What's to stop you from just darting ahead? Well, damage numbers. New Dawn introduces RPG elements, like damage numbers, into its design for the first time in the series. The game's guns and enemies fall into four different tiered ranks, and getting ahead requires that you go out into the world to scavenge crafting materials to upgrade your base so you can upgrade your weapons workshop and eventually craft better guns to take down the higher rank enemies impeding your progress. Outfits, armor, and defense numbers don't factor in your growth, just weapons. Guns at rank 1 and 2 will do a minimal amount of damage to well-armored rank 3 and elite rank enemies.
Early on, this can be annoying if you try to push the limits of the game in a way you're not meant to. Heading too far into the map and needing to use up hundreds of bullets to take down a rank 3 bear you encounter isn't terrifying as much as it is silly, and eventually, the demands of story missions will stop you from going too far.
But if you dial down your Far Cry 5-style expectations of freedom and go with the flow, you run into these awkward predicaments far less often. Your guns feel like they do the damage they're supposed to, and enemies feel like they have an acceptable level of resistance. In fact, once you get access to the top-tier arsenal, things will start to swing wildly in your favor–your guns will feel overpowered to the point where even shooting rank 1 enemies in the foot might be enough to take them out–which feels great when you're getting overwhelmed. Played the right way, the game's RPG-style systems basically feel invisible, and you can enjoy Far Cry's style of weighty gunplay and feel like an incredibly competent one-person army. The feeling of eventually being able to overcome New Dawn's elite enemies is good, but you're left wondering why you needed to be held back by artificial gating at all.
=> Click johnny upgrade hacked play game free now.