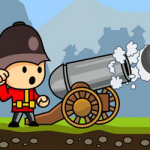 Cannon game – Canon And Soldiers is a game of destruction m you should try. In it, your goal is to eliminate all enemies on each level most difficult. The cannon games have a total of 28 levels of fun and booming. In each level, you are provided a number of bullets, cannonball limits and you must eliminate all enemy troops in the area. A number of enemy troops covered to explode sheathing of them, or hitting them from above with a salvo! Determine the power and angle of your cannon and try to get the high score. Use gunpowder and blow away enemies with your cannons in cannon game! Eliminate all enemies and rescue allies, your in-game free online to play bombardment this fascinating!
Features of the cannon game:
Graphics are beautiful with rich colors
Animation smooth in the cannon game
Music authentic, vibrant
Play cannon games for free on your phone, computer
How to play the game Canon And Soldiers:
Play cannon game on your phone, touch the screen to shoot.
Play on the computer, use the mouse to drag and drop ammo.
The cannon shot game has a total of 28 levels of fun, and boom that you have to conquer.
Your task in the game is you have to eliminate all the enemy troops in the area cannon games.
Can you beat 28 levels now in the cannon game? Good luck!
Play more games: Hexa Match, The Way game