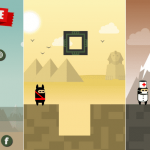 Action game to suppress hero vs square
Action game to suppress hero vs square, if you have ever played Hero vs Square then surely the first sentence you will evaluate this game by the extreme pressure, many people do not give up when playing this game, if you have never played Hero vs square try now Now, how do you feel about this game?
# Hero vs Square Action Game Extreme Suppressor
Hero vs Square is a action games online free, requiring the player to help the hero through the crushed blocks secured by squares.
The game is not too difficult, but has made many people can not play 1 point. So how can you help the hero overcome the squares on the way? To do this, you need to figure out where the square will fall into the hole in time, and how the square can rotate to fit that hole.
Each game is accurately calculated by the programmer, if you can understand the rules of the game, you can achieve a high score when playing this game.
Good skills, quick reflexes are two things you need to play this game. In addition, perseverance will help you understand the rules of the game. At that time, you will absolutely see this game very easy.
Try to conquer squares and deep holes, you may fall down or touch that square if you do not go carefully. If you die, you will have to play again from the beginning, the score can be saved after each turn. You can know the score of everyone who has played, to know how much you are playing.
# Highlights of the game
– The game can be played on most devices such as iPhone, iPad, Window, ….
– Hero vs Square is not just for kids, it's for adults as well.
– It is an online game so it does not take up memory space to download or worry about the virus during the download process.
– Beautiful 3D images, witty audio make you addicted.
– The gameplay is quite difficult to make people want to conquer.
>> See more:
# How to play Hero vs Square
– If you use a mobile phone to play, it may be simpler, just touch your screen with your hand, and the right square will fall into the hole when you start moving.
– If you use the computer to play, just use the mouse, look at the square when the balance falls, use the mouse to move the hero forward. Note, do not let the square fall in the form of diamonds, so that the square does not fit the hole, will not heroic pass.
Here, 123 games free have instructed the players how to extreme action game Hero vs Square right. This is one of the hard game action but do not hurry. Be persistent will be successful.
Happy gaming!
Link play right here: https://123gamesfree.com/hero-vs-square/