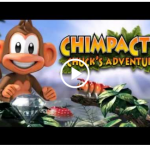 Monkey quest: Monkey Run – Free running game
Monkey quest: Monkey Run – Free running game. All you play Banter Island out there, be prepared for the most exciting ice-skating trip ever! If you like Monkey quest –Monkey banana – Free running game Monkey Banana Banana Run, and Banana Island – Run Wilderness, you will have a new breath with Monkey Run – Free Running Game!
Our friend Bobo is having a mission to save people, and he has to run, jump and swing across 5 islands to save his love life! Take an endless race, and make our little monkey happy! Download Monkey quest – Free Run Game and take on a terrific racing mission through Monkey Island!
* The adventure swing wire high speed
One touch and slider control – Quick and intuitive controls for the best gaming experience
* Cross wilderness horror forest full of surprises, secrets and obstacles difficult
* Jump and swing vine to avoid deadly obstacles
* Wild music and funny monkey sound
* Add Strength: Shield, Magnets, and Double Money
* Explore 5 new islands:
Banana Island
Savanna Island
Rock Forest
Island Temple
Volcano Island
Run and collect money to change monkeys with the most crazy clothes
* Replay each level to get 3 stars and earn more impressive achievements
Join the jungle monkey's quest to experience the hottest gaming platform yet to be found in a 2D platform!
Simple control
Jump – Touch to jump, Touch & Hold to get a jump further!
Mega Slider – When in the air, Touch & Hold to slide through the clouds!
Super Fall – When in the air, slide down to fall faster and kill the enemies baboons around you!
The evil king Kong kidnapped Bobo's girlfriend Lily and wanted her to become his forest queen.
Run, jump, and smash the obstacles on your way to keep your love life from the claw of the demon king! But, watch out! Cursed monkeys are everywhere, and they are fully equipped and very dangerous!
>> See more:
* The angry monkey face monster face is equipped with crazy personal flying device!
* Dangerous spikes threaten to save your girlfriend!
Make monkeys swing from one vinegar to another like Tarzan, and go on a banana trip in a hurry!
Keep running like crazy and pick up the combo mega in this thrilling and exciting sliding adventure game for the kids! Collect money and buy fun stuff for our jungle monkey!
* Visit the store and buy the outfits and great enhancement
Collect the ruby, sapphire and emerald stones, and smash the crates to complete the missions and earn extra cash!
* Keep your eyes wide and collect as many Monkey quest bananas as you can as possible, do not miss even a left, they are very rare!
Continue the banana hunt and join our wild jungle in this amazing new monkey forest novel! Run and rush through all the monkey islands to kill as many angry baboons! Swing on the vines to avoid the deadly obstacles and complete the levels!
Depressed by the old women, zombies and old monsters flashed on their temple races? Try the super monkey race and fly like a bird through the jungle village! You will go crazy with this jungle jungle adventure! This baby monkey game is also fun for adults as well as challenging missions, and its gorgeous screen designs!
Run, monkey, run, Monkey quest! Get into the banana rush and join the world of monkey racing and jumping games on high speed 2D platforms!
Download Monkey quest – Monkey Run – Free Running Game and be ready for the revenge of the gorilla! Banana Monkey Mega Mission awaits you!
Fight the flying monkeys, and defeat the angry gorilla in this epic monkey forest to become the worst monkey in the forest! Download this fun slide racing game Monkey quest for kids and adults, and save your daughter from the monkey temple!